Be Bold Festival 2021
April 9, 2021 at 8:00 am

-

April 10, 2021 at 5:00 pm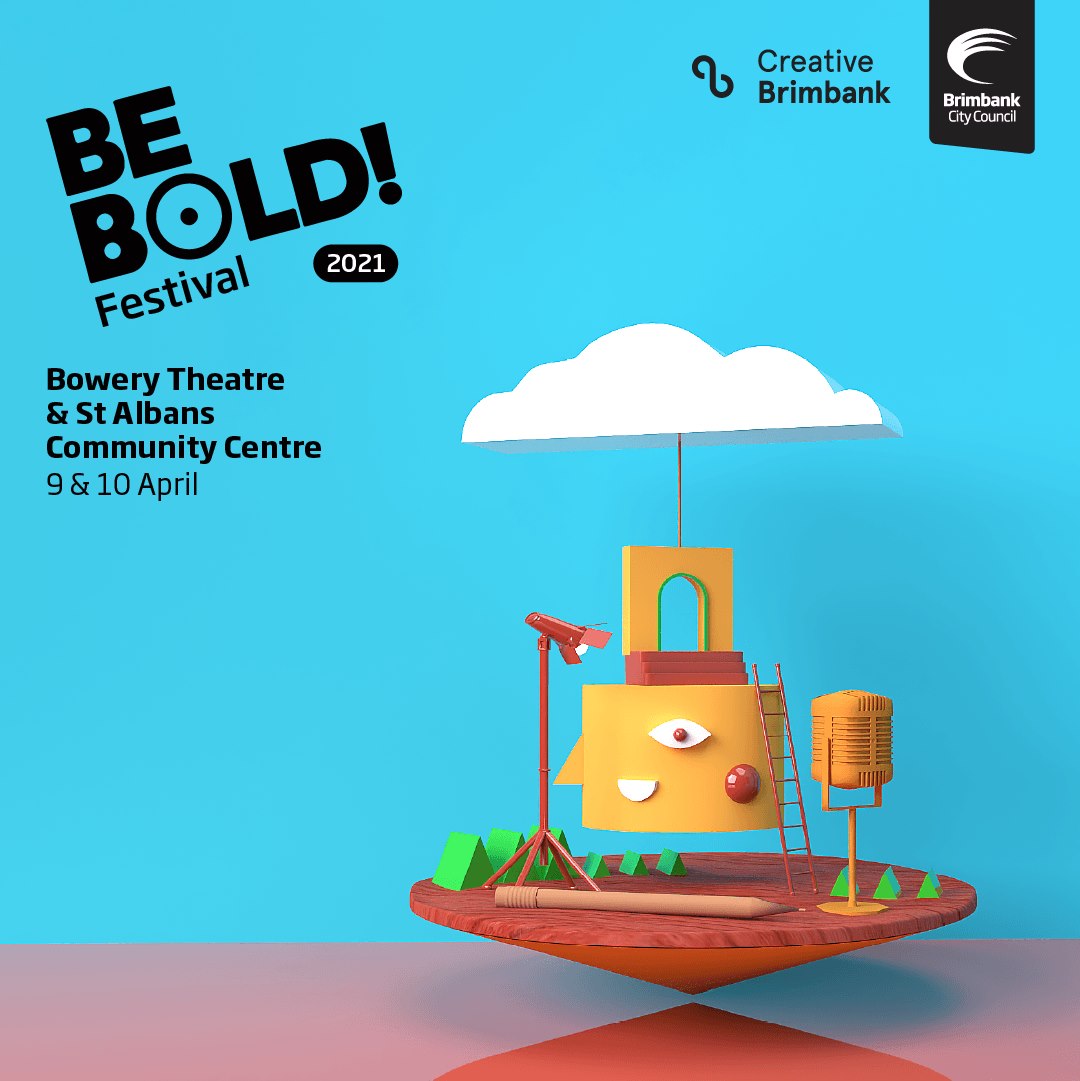 Celebrating Brimbank's Bold and Creative Arts Community
Daring to be different – Brimbank's beloved Be Bold Festival returns with a dynamic program of arts, culture, music and performance by and for our community in Melbourne's west.
Join the Brimbank community for a jam-packed two-day all ages festival located in the cultural arts hub of St Albans.
On Friday 9 April we present Be Bold Blakout – a dedicated Aboriginal and Torres Strait Islander program and Saturday 10 April is a full day community Arts and Culture program for all ages.
The Bowery Theatre will have a program of film, art, and children's theatre over the Friday and Saturday delivered by its artists-in-residence.
BE BOLD FESTIVAL
 9 & 10 April 2021
 Bowery Theatre and St Albans Community Centre, 33 Princess Street, St Albans and surrounding areas.
 DAY 1 
Friday 9 April, 6-9pm
Be Bold Blakout
 Be Bold Stage Performances by:
 The Merindas (Pop / Dance)
 Pirritu (First Nations / Folk / Roots)
 Kalyani Mumtaz (DJ set)
 Shauntai Baztke (Classical / Opera)
Featured events:
Welcome to Country
Unveil Aunty Joyce and Uncle Boots Mural + Artist Talk with Artists Mike Maka, Mandi Barton and Lee-Anne Clarke.
Blakout Market Stalls
Art Installation – Fibonacci by Dave Murphy
MABU MABU Food Stall
 DAY 2 
Saturday 10 April, 10am – 4pm
Arts and Culture Program
Be Bold Stage featured performances:
 Ajak Kwai (Soul / Funk)
 KVYNL (Hip-hop / Electronic)
 Lavinia Tosev (Folk / Pop )
 FReeZA Youth Special feat. Levz, Vava'u Brothers and Mercii Makepeace supported by DJ Julz and DJ Spell
Featured events:
 Duets with a Shapeshifter Exhibition and Films by James Welsby aka Valerie Hex
 Western Edge Youth Art Film
 Our Kitchen Stories with Jennifer Tran
 Dance Zone with L2R Dance and Dagogo Obogo
 Kontiki Fashion Show
 Art Tours + Demonstrations of St Albans Public Art
 Markets and Food
Children's Program:
 Child Nation – Digital Art Play presented by Artist Jessica Wlison
 Family Art Workshop with Artists Jo Mott and Aida Azin
 Little Tadpoles Looking for Mama Installation and art workshop with Dan Wei
 Children's Short Films presented by Sunshine Short Film Festival
 Giant Puppets by Snuff Puppets
 Roving Entertainment
Bowery Theatre Program by Be Bold Performance Residency Artists
 Ipu Ti Film Preview + Artist Talk presented by Fipe Preuss and Irihipeti Waretini (Friday)
A film excerpt of contemporary and classical Pacific/Māori performance art and storytelling followed by an artist talk.
 Tahlilah (Lullabies) presented by Aseel Tayah* (Saturday)
In this participatory performance, Aboriginal and Palestinian artists share lullabies their cultures in a twilight inspired installation space. Suitable for under 6s.
Plus more!
No charge to attend festival, bookings required for Bowery Theatre program and art tour.
*Option to pay what you can $20, $10, $5, $0
#BBF21 #BCreative #WeAreBrimbank
This is a COVID safe, accessible, smoke-free and alcohol-free event