Would you like to:
understand your teen?
communicate effectively with your teen?
help your teen manage their emotions?
prevent behaviour challenges in your teen?
support your teen to manage conflict effectively?
Our seven-week Tuning in to Teens program teaches parents how to help their teen develop emotional intelligence.
Teenagers with higher emotional intelligence:
have more stable and satisfying relationships
are better at managing peer pressure
have fewer mental health and substance abuse difficulties
have greater success at making friends
are more able to manage conflict
have greater career success.
The course will cover:
emotional intelligence and why it's important
the five steps of emotion coaching
different parenting styles
anger and conflict management
problem solving
emotional self-care.
"It has made me a calmer parent and my child is calmer and we feel closer to each other. She is also better able to manage her behaviour." "The practical resources to use at home make a real difference."
Register your interest for Term 4, 2021
When: Tuesdays 6-8pm from 18 January to 1 March 2021
Where: Online via Zoom
We request that you attend all seven sessions.
An extra booster session may be held in the two months following the conclusion of the group.
Please note: This group may not be appropriate for all parents. Please contact us if your family is experiencing family violence, significant mental health issues or child protection issues. We will talk to you about your circumstances and whether this group is suitable for you.
A FREE program for parents and carers of teenagers aged 10 to 18 years old.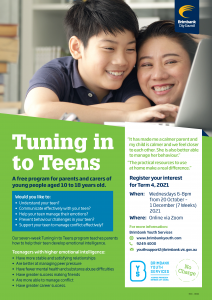 For more information please call or email our Wellbeing and Belonging Team:
9249 4000
youthsupport2@brimbank.vic.gov.au