Amelie – Brimbank Youth Council #MEETBYC
🤔❓ Did you know that Brimbank has a Youth Council? Now you do! Meet Amelie, one of the Brimbank Youth Councillors!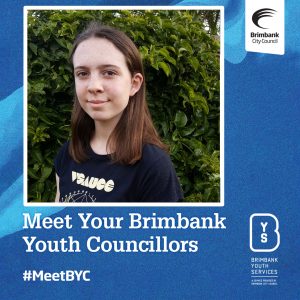 Tell us three things about yourself!
I am a very passionate squash player! It's a big part of my life, I live and breathe it! Before the COVID-19 lock-down, I played/trained six days a week. I compete around Australia throughout the year. My dream is to compete at the British Open in the next year or two. I was number two in Australia in under-13's up until last month, when I turned 13 and moved to under-15's (I'm currently number one in Victoria). I will be on the Victorian State team this year, which means I will be representing our state at the Australian Junior Championships in Queensland in December. I love being active but I also love cooking, especially sweet treats! I enjoy being creative, drawing, painting and making things.
Why did you decide to join the Youth Council?
I joined the Brimbank Youth Council because I wanted to be a voice for young people, especially in the area of health. I am the youngest member of the council which is good because I can give a perspective from the younger age group. I also saw this as an opportunity to learn because this is a new experience for me.
What issue are you most passionate about and/or interested in tackling and why?
The issue I'm most passionate about is the improvement of physical and mental health of young people. We all eventually become adults, so if we don't have healthy young people now, then we end up with unhealthy adults. This becomes a vicious cycle. I want young people to learn how good it can feel to be active and make healthy choices. If they have that knowledge, they can pass it onto other young people and when they become adults they can teach that knowledge to their children. We need to create a better future to improve as many lives as possible. This means a healthier and happier population and less pressure on our medical system and economy.
Why is it important for young people to be heard/part of the decision-making process?
Young people need to be part of the decision-making process because only we can give a real perspective of the issues of young people. 
What's one piece of advice you have for young people who want to create change in their community?
I would say to young people, don't be scared to speak up and that making small steps can lead to change.
Thanks for giving us such a great insight Amelie! We wish you the very best in your role as a Brimbank Youth Councillor and all future endeavours!