L2P – 5 Day Trips From Melbourne
As we come out of isolation, I'm sure some of you are itching to get out and see something other than your living room and backyard.
We've put together for you 5 amazing day trips you can take around Melbourne. Check out some of our favourite destinations and great things to see or try on the way. Don't forget, when you are out on country roads and highways, take it easy, take plenty of breaks and take your time.
5. Daylesford/Kyneton/Mt Macedon Approx 250km, 3.5 hours of driving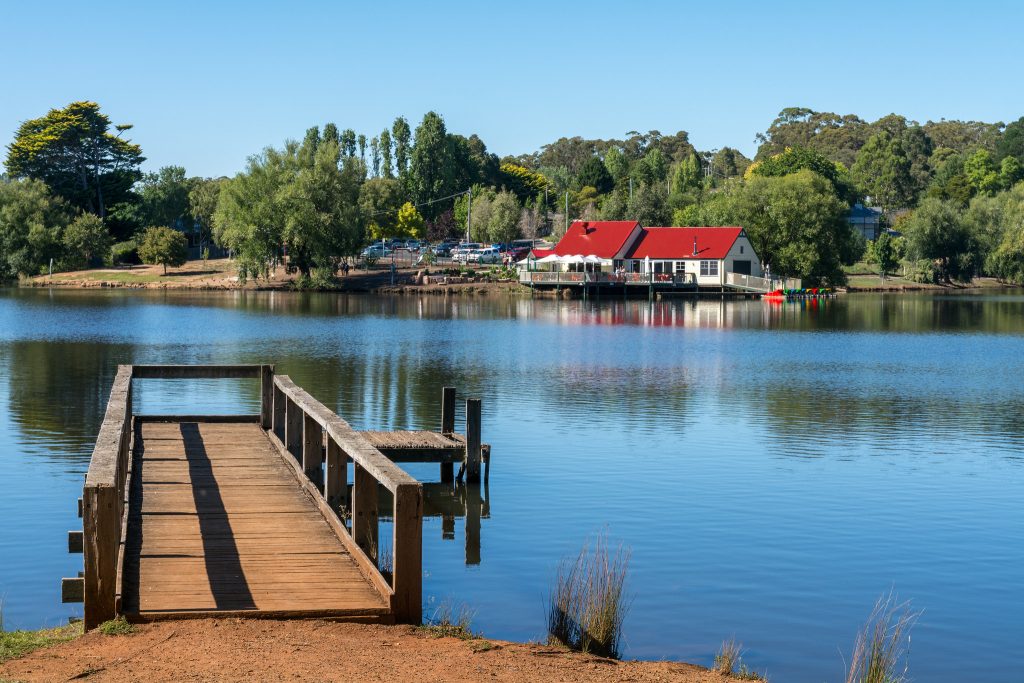 This trip starts off following the Western Freeway, and then turning off at the C141 through farmland towards Daylesford. You'll be driving through Dja Dja Wurrung country that was later settled in the days of Victoria's Gold Rush. Back then a little gold was found in the area. These days its gold for its mineral spring day spas and artist community. At Daylesford you can take the Spa Country Rail for a journey through the forests, farms and hills nearby. Check out the Mill Markets for some amazing antiques or consider a spa treatment in Daylesford or nearby Hepburn Springs. As you leave the Hepburn area you can take a short detour north and check out Mt Franklin, an extinct volcano crater that is now a State Park.
From Daylesford you can head towards Malmsbury on the C316, and then find your way to Turpins Falls on Shillidays Road near Langley. It's a beautiful spot and old natural swimming hole (warning, it's cold ALL the time). From there make your way back to the Calder Highway where you can detour through Kyneton for something to eat at one of many restaurants using local produce and you head on down the freeway turning off near Woodend to go via Hanging Rock to the Memorial on Mount Macedon. There you can do some bushwalking, spend some time enjoying amazing panoramic views of Melbourne and Port Phillip and if you're still hungry at this point stop by the Tea Rooms. If you're taking this drive during winter, you may also get lucky and get some snow falling while you are up there. From there, you just make your way back to the Calder Freeway and make your way back home.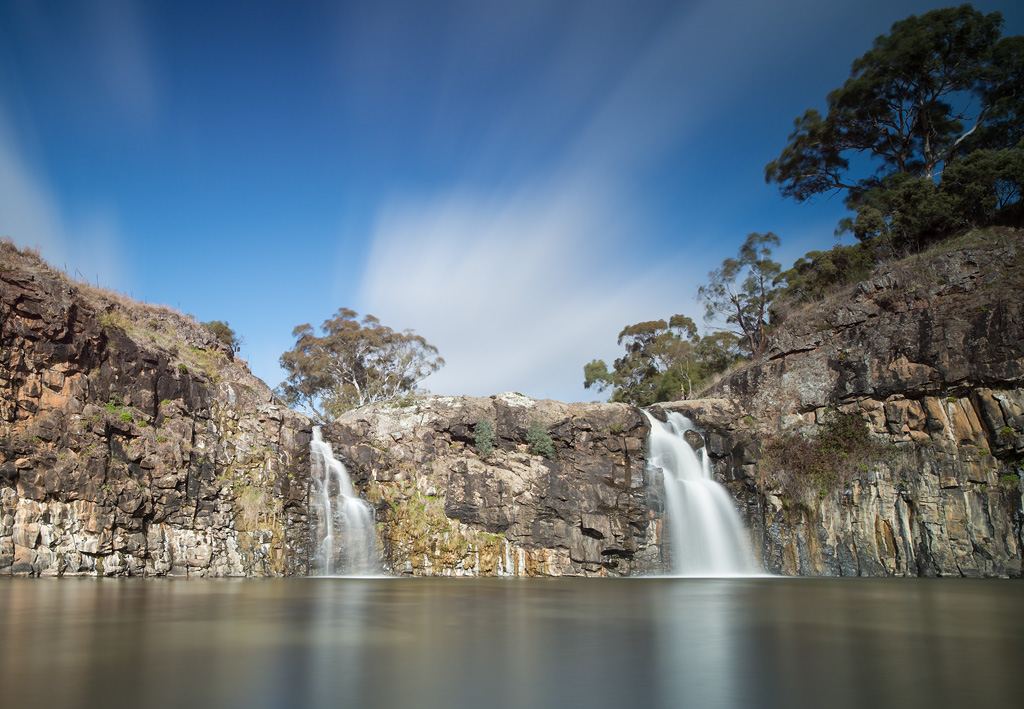 4. Lake Eildon Approx 350km, 5 hours of driving
Take the Metro Ring Road across the top of Melbourne and then head through Diamond Creek and Kangaroo Ground as you head towards the top of the Yarra Valley. There's a lot to do in this area that is worth its own day trip, but we do recommend the memorial tower in Kangaroo Ground which is an old fire spotting tower. From the top there you can see a way around a lot of Melbourne. From Healesville you head out of Wurundjeri country into Taungurung land. Follow the Maroondah Highway towards Narbethong, a section of road known as the Black Spur where you'll twist and turn through forests of huge mountain ash trees and deep ferny valleys. Take it nice and slow on this road, enjoy the views and watch carefully around all the bends.

At Narbethong you'll have the opportunity to turn off for Marysville, a little village that was devastated by the Black Saturday bushfires in 2009, where there are several cages, art galleries and craft shops. Stevenson's falls are only a short drive out of town if you want to take a stop there.
In winter, nearby Lake Mountain is the closest snow resort to Melbourne. It's not big enough for downhill skiing, but you can hire gear in Marysville for tobogganing, cross-country skiing, or just build a snowman and have a snowball fight.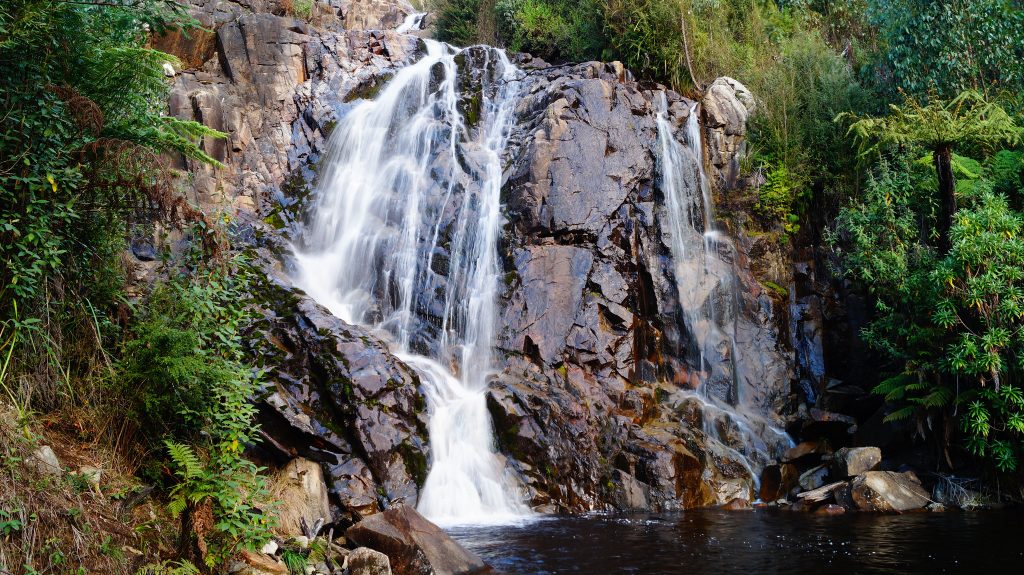 From there you can head back the Maroondah Hwy through Buxton (and eat a famous Buxton Burger) and then head towards Taggerty where you'll turn off for Eildon. Through this region you'll pass the Acheron River, Rubicon River, Goulburn River, and then come to Lake Eildon. They are all great for trout and salmon fishing if you've brought along some rods. At Eildon you can see the Pond built where they dammed the Goulburn River, and the spillway and hydro power station the lead to the main Lake Eildon. There are many lookouts, walks and short drives you can take in this area you can find that might interest you.
Leaving Eildon, you head towards Alexandra on the Goulburn Valley Highway. If you haven't eaten yet, check out the bakery in Alexandra, and then keep on the Goulburn Valley Highway past Yea until you get to the turnoff for Strath Creek. From there you follow the road to Broadford, and then turn on to the Hume Freeway and head back towards Melbourne. There are plenty of good places to do some decent hiking around here – the Cathedral Ranges between Marysville and Eildon, or Toolangi or Murrindindi South of Yea. If you are going to bushwalk, take a map, good shoes, plenty of water and let people know where you are going.
3. Phillip Island Approx 330km 4.5 hours driving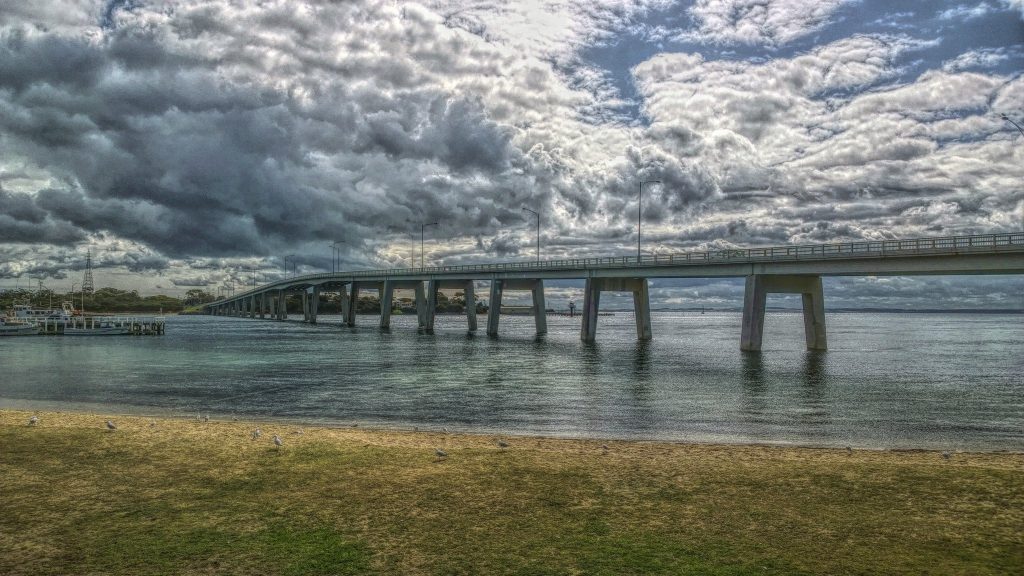 Phillip Island is a small island south-east of Melbourne in Bunuring country, connected by a road bridge, and a great place for a day trip. Head out of Melbourne on the Monash freeway, exiting just after Dandenong onto the South Gippsland Highway (M420). You'll head past Cranbourne and through the beach town of Tooradin. Soon after this you'll see the Caldermeade Farm, a great place for a break and a milkshake. Keep following the 420 past Bass (and the now-closed Giant Worm attraction) and soon you'll be in San Remo. If you're there at the right time of day you can participate in the feeding of the pelicans at San Remo, or head over the bridge onto the Island.
Once you are on the island there are a whole range of choices. Newhaven has Panny's Chocolate Factory where you can watch chocolate being made and Churchill Island, just outside of Newhaven is the home to Victoria's oldest working farm. You can head down Cape Woolamai into the Phillip Island Nature Park, where thousands of Mutton Birds come to roost. From the Woolamai Surf Beach carpark there is back trail over to the Sand Dunes at Norman Hill where you can slide down on a boogie board or just take a roll in the sand.
If fishing and boating are your thing, head to the town of Rhyll. Just near Sunset Strip is Amaze'n'things, with several outdoor mazes, high ropes course, and mini-golf. Off back beach road near Smiths beach is the Phillip Island Grand Prix circuit, which is also home to a Go-Kart Track and Horse Riding and the Western side of the island is home to the Nobbies clifftop boardwalk, Seal Rock lookout, and the Penguin parade, where people travel from allover the world to watch the Little Penguins come in from the ocean and walk back to their nests at night.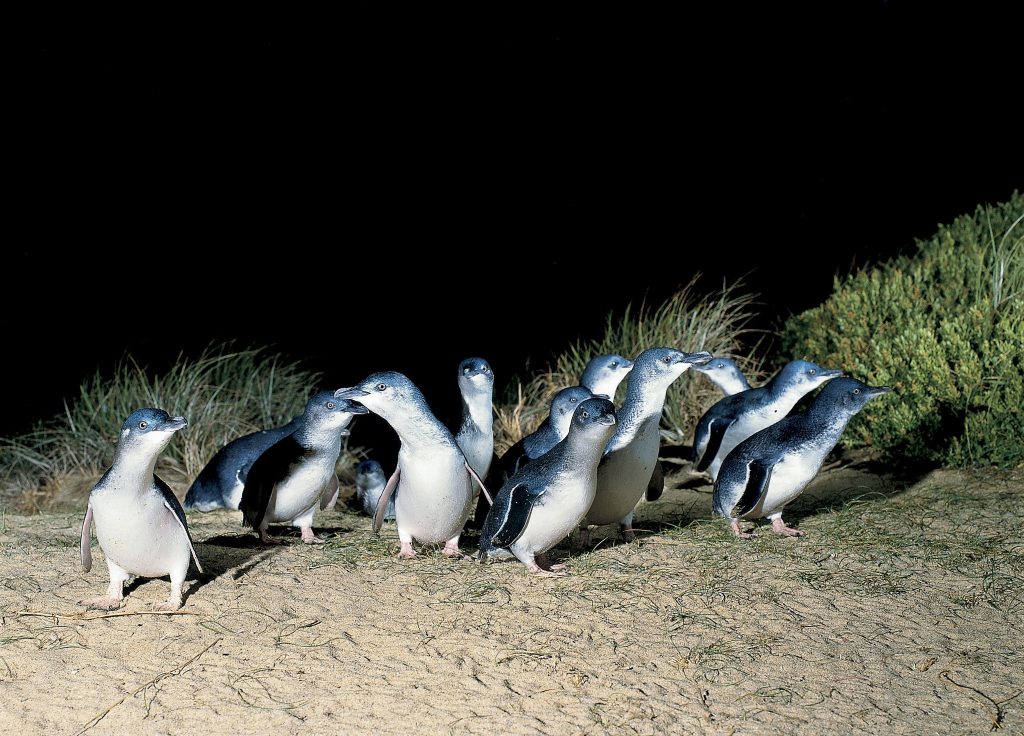 There are several great surf beaches, however they can be very dangerous and we don't recommend swimming or surfing there are times they are unpatrolled. Cape Woolamai, Summerlands, Forest Caves and Smiths Beach all have good breaks, and you can get surfing lessons at Smiths. If you just want to hit the water somewhere safer then Ventnor and Cowes are better places.
Cowes is the main township on the island, and has plenty of shops and restaurant, although good coffee and good fish and chips can be found at each of the main settlements on the Island. Plenty of great places to grab dinner before heading out to see the penguins or watch the sunset over one of the western beaches before driving back to Melbourne. Coming back to Melbourne turn off at Koo-Wee Rup for a shortcut to the Monash Freeway and head home from there.
2. Yarra Valley Approx 250km, 5 hours of driving
The Yarra Valley is a whole bustling home of Australian food & drink, set amongst rolling green hills and valleys, tracking up to the forests surrounding the source of the Yarra River. Some of the destinations include wineries and breweries – great for picking up stuff to take home, but if you are going to be sampling make sure you have a designated driver. The Valley has a large number of wineries – if that's your thing, do your own research on where you'd like to stop. The Yarra Valley is Wurundjeri Country, and on your drive & walks you may see Bunjil, a wedge tailed eagle. Healesville was also the home to Coranderrk Station, a significant part of indigenous history in the area for the whole Kulin Nation and is worth learning more about.
Head to Yarra Glen via the Metro Ring Road and then through Diamond Creek and Christmas Hills. Just outside of Yarra Glen is the Yarra Valley Chocolaterie and Ice Creamery, where you can sample from dozens of flavours. From there, it's a short drive to Healesville where you can take in a round of golf at the RACV Country Club, take a walk by the weir at Badger Creek, get lost in Hedgeend outdoor maze, visit Healesville Sanctuary (part of Zoos Victoria – strongly recommend taking in the animal hospital there), or on weekends take a ride on the historic railway. For food and drink, check out the Matilda Bay Brewery, the Beechworth Bakery for breads and pies, Watts River Brewery, St Ronan's Cider and Four Pillars Gin.
From Healesville you'll head through Don Valley towards Yarra Junction. Along the way you can get your Robin Hood on at the Yarra Valley Archery Park. Head from there to Warburton where you can stop by the beginnings off the Yarra River. Warburton is a great little artist community and you can check out the galleries and potteries, grab some food from a café, and enjoy it all by the banks of the river.
If you're up for an adventure at this point, you can head out through Big Pat's creek and into some old growth forests, home to some of Victoria's historic timber industry, but also home to some amazing preserved forests, including The Ada Tree, a giant Mountain Ash, one of Victoria's largest and oldest trees. There are plenty of walks in this area, but if you're going to take them make sure you have good shoes, a water bottle, and don't venture off the marked paths.
After you've taken it all in, you can either head back through some of the towns you've already seen to check out a restaurant, pub or café you saw and wanted to revisit. Otherwise you can choose to follow the Warburton Highway back towards Montrose or Lilydale where there are a number of opportunities to stop at little townships on the way as you then make your way to Eastlink and home.
1. Great Ocean Road – Short – 290km 3:45 driving time – Long 525 km 7:30 driving time
The Great Ocean Road is one of the more famous drives in the world, and for us it's just a short trip away. With such a great opportunity we've picked out two routes for you – the taster route that lets you see a little bit of what this road has to offer, following the Great Ocean Road to Lorne and then coming back inland, and then the second route following it all the way along to Port Campbell and some of it's more spectacular natural attractions.
Head South towards Geelong on the M1. Today you're beginning your journey through Wathaurong country, and then you'll be in Gadabanud and Gunditjmara land. When you near Geelong follow the ring road and signs for Great Ocean Road. You can take a slightly longer route through Torquay, especially If you are keen to hit up the surf shops – otherwise follow the signs for Anglesea. And turn onto the B100 – the Great Ocean Road – in between the two towns. As you come through Anglesea there are couple of options to stop for coffee, and there is a great lookout at Point Roadknight as you leave town before you head off on some nice long ocean stretches. You'll pass through the town of Airey's Inlet, home to the Split Point Lighthouse (where the TV series Round the Twist was filmed). As you come through Fairhaven keep an eye out for the 'house on a pole' and then take a stop at the Memorial Arch at Eastern View with all the other tourists for a photo opportunity, and then start to wind through the valleys and gullies in the hills before you come down into Lorne.
Lorne has about 1000 regular residents, but this blows out to almost 15 000 during summer. The beach here is lovely, there's also a pool, there's a couple of places to grab petrol if you need it, and we strongly recommend checking out Grandma Shields Bakery. During the summer this place stays open all night with the bakers selling hot pies and sausage rolls through the door to hungry travellers. Make sure you head out to the far side of town to check out the Grand Pacific Hotel and pier, and Teddy's lookout. When you're done, you can head back across the river, and then turn off onto the C151 which will take you inland back towards Geelong, through some old forests and then across some lovely farmlands and small towns.
If you're up for the long drive, continue on from here (or, you can take the inland route and start from Lorne). From Lorne you will drive through some of the best of the Ocean Road, op and down cliffs and valleys, crossing creeks and rivers as they meet the sea, with the forests on one side and the clear ocean on the other. Wye River is a great place to stop with a small general store and a hotel. It's also a great place to stay and enjoy the beach. Much of this town has been affected by landslides and bushfire in recent years, so they always appreciate the visitors.
Apollo Bay is the next big town with a chance to stop, refuel and refresh. The Road then heads up through the Forest at Cape Otway and the Great Otway National park. If you take the turn-off for Cape Otway you'll get to travel out to the Southern Tip and the Lightstation there. Continuing on you'll pass through Horden Vale where there the opportunity to travel down to Aire River. There are some great campsites in here, as well as a beach and a couple of good fishing spots, both the beach and in the river, and some good spots to have a walk. The Great Ocean Road stays inland through a lot of this, briefly coming back to the ocean at the cliff tops of Castle Cove. The next town is Laver's Hill, where you can detour to the Otway Fly treetop adventure walk, or take a break there. Keep driving through Princetown, and you're back to the ocean, driving much of the next section along clifftops, although there is regular beach access. Along this part of the coast are some of the more famous natural features of the Great Ocean Road. First you'll pass the 12 Apostles, a series of limestone stacks, then the Loch Ard Gorge, site of a famous shipwreck, and Thunder Cave, and then on the other side of the town of Port Campbell you'll find the London Arch and the Grotto.
After that it's back to Port Campbell, fuel up and head inland through farmland towards Colac and then along the A1/M1 back to Geelong and then home. Remember, when driving on the Great Ocean Road, beware there can be a lot of traffic, and in particular through the winding sections things can get backed up. Take your time and be safe, but if you are the slower vehicle, use one of the many opportunities to pull over and allow all the following traffic to pass. If you are behind a slow going car, give them plenty of space and wait for safe opportunities to overtake. Also be aware, this road is famous for tourists from overseas forgetting which side they are meant to be on, so keep an eye out for that at all times too.