Neha – Brimbank Youth Council #MEETBYC
🤔❓ Did you know that Brimbank has a Youth Council? Now you do! Meet Neha, one of the Brimbank Youth Councillors!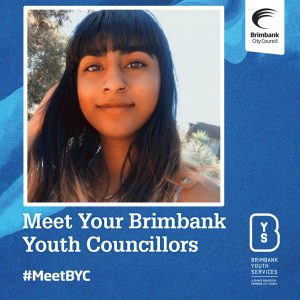 Tell us three things about yourself!
I enjoy listening to music anytime, anywhere, anyplace because it makes me feel really good, especially when I'm completing my university coursework. Music is the one thing that makes me who I am, it's my type of vibe and everyone has their own different styles of music. I enjoy taking a long, relaxing walk around my neighbourhood as it clears my mind as well as keeping me calm. I am extremely passionate about children, and as a result of completing VCE, I am currently a first year student doing Bachelor of Early Childhood  Education. This has been a career choice ever since I completed primary school, and years later, this is where I am. Teaching has given me new perspectives out in the real world, and it is an amazing opportunity that I haven taken, and am willing to complete. 
Why did you decide to join the Youth Council?
Throughout my high school years, I've always been involved in the Student Representative Council as part of making a social change in our school with the help of teachers and various external organisations. By being involved in community programs, I decided that joining the Youth Council will make positive changes possible in our communities and schools through developing projects with the help of the government. The Youth Council is a great way for students and young adults to become a leader, either in school or in your community. 
What issue are you most passionate about and/or interested in tackling and why?
I am very interested in the issue of rubbish pollution because everywhere I go I see rubbish and it makes me feel very disgusted. We live in a world that we are supposed to care and look after, and many people are not aware of the consequences that global waste has, not just on our environmental surroundings, but also in the oceans, rivers and lakes where animals live. I am also interested in small workshops about driving and getting to know the basic life essentials such as how to open up a bank account for young people. 
Why is it important for young people to be heard/part of the decision-making process?
It is important for young people to be heard and be part of the decision-making process because they are the next generation and there may be needs that they require or want in the future years, therefore slowly starting to make a positive change with new ideas and opinions from others is the best way to start.
What's one piece of advice you have for young people who want to create change in their community?
One piece of advice that I have for young people out there is to be involved in many activities, either in school or the community, and participate in programs that make them fill their passion.
Thanks for giving us such a great insight Neha! We wish you the very best in your role as a Brimbank Youth Councillor and all future endeavours!