Sarah – Brimbank Youth Council #MEETBYC
🤔❓ Did you know that Brimbank has a Youth Council? Now you do! Meet Sarah, one of the Brimbank Youth Councillors!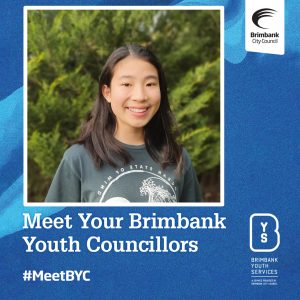 Tell us three things about yourself! (Eg. hobbies, interests, favourites, passions, etc.)
My biggest passion in the whole world is SPACE! When I was younger I had such a fascination with the moon and the stars. I remember just looking up at the night sky, tracing constellations and wishing I could be in the middle of nowhere to witness the beauty of the Milky Way. I love how there is so much we do not know, and so much we have yet to discover. My ultimate dream is to one day become an astronaut!
I also love to swim, and I have had so many amazing memories with friends at swimming carnivals and swimming competitions. Art is another one of my favourite hobbies, and over the years the walls of my house have slowly become full with all of my paintings!
Why did you decide to join the Youth Council?
Brimbank is my community. It is the one I have grown up with, and the one I continue to be a part of today. I have always felt a duty to give back to my community, and I have always been passionate about doing more, contributing more, and being involved as much as I can. I wanted to exchange ideas and work alongside other like-minded people to discover Brimbank's true potential as a stronger, more supportive and more connected community. The Youth Council was the perfect answer!
What issue are you most passionate about and/or interested in tackling and why?
Like many of my generation, I am passionate about environmental sustainability, not only because I love nature and the great outdoors, but because this issue will impact the future of the entire planet and the entire human race. The first step was to recognize and declare a climate crisis, but I think it is now of vital importance that we take the necessary action before it is too late.
I also love how this issue forces us to think outside the box and get creative. Over the years we have discovered so many different ways to live more sustainably, from creating biodegradable textiles to using fish waste to fuel cruise ships!
Why is it important for young people to be heard/part of the decision-making process?
Have you ever heard of a community where everyone was above the age of 25? Of course not. No community is complete without its youth, therefore no decision making process is effective without input from youth. Not only are we impacted by decisions and changes in the community, but young people can bring a different perspective and a new way of thinking, one that can help shape a positive future for everyone.
What's one piece of advice you have for young people who want to create change in their community?
My advice would be to step out of your comfort zone and have confidence in yourself! If you believe that something needs to change in your community, don't be afraid to speak up. If you want to take action but are unsure of what to do, don't be afraid to ask. If you see an opportunity to join a group such as the Youth Council, don't be afraid to put your name down and go for it. It's all about taking action, being determined and realising that you actually have more power than you know.
Thanks for giving us such a great insight Sarah! We wish you the very best in your role as a Brimbank Youth Councillor and all future endeavours!